You learn so much when you listen. This past week I learned about a couple of Ontario newspaper resources.
On Tuesday afternoon during the OGS Ottawa Branch Virtual Genealogy Drop-In Chuck Buckley mentioned a thesis by John Michael Bolton from Wilfrid Laurier University Scholar's Commons: Spread and Growth of Newspapers in Ontario, 1781-1977. Use it as a source to find what newspapers were available at the time and in the area where an ancestor lived. I was surprised it's NOT AVAILABLE through Library and Archives Canada's Theses Canada.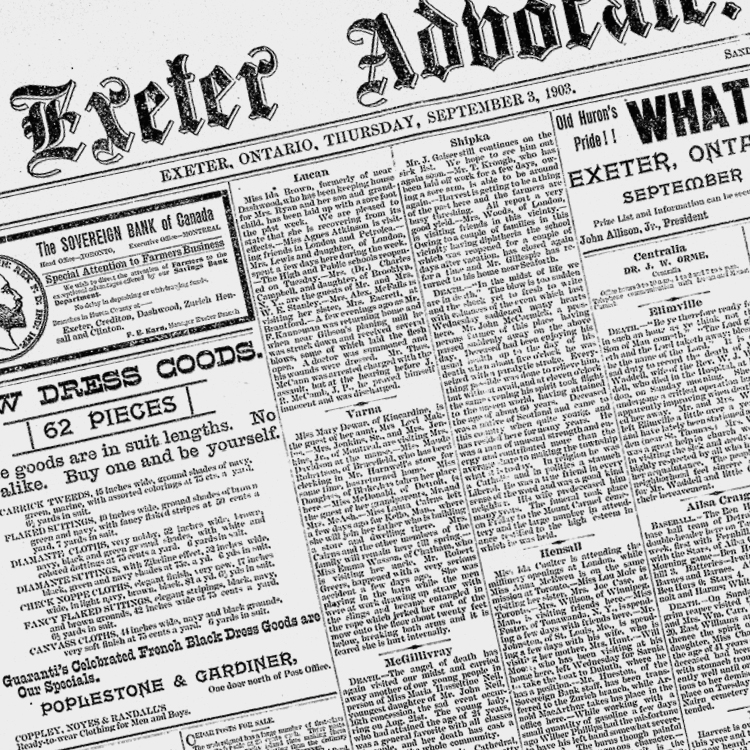 On Saturday, Glenn Wright mentioned the digitized newspapers available as part of an ongoing long-term project undertaken by the Huron County Library and
Huron County Museum
. More than a century of historic news is on-line — more than 350,000 newspaper pages from 1848 to 2016:
Bayfield Breeze 2009-2018; The Bayfield Bulletin, 1964-1968; The Bayfield Post, 1981-1982; The Blyth Standard, 1893-1982; The Brussels Post, 1885-1929; The Citizen (Blyth/Brussels) 2016-2018; The Citizen, 2015-2018; The Clinton New Era, 1874-1921; Clinton News Record, 1912-1945; Dungannon News, 1915; East Huron Gazette (Gorrie), 1892-1893; The Exeter Advocate, 1888-1924; The Exeter Times, 1873-1924; The Exeter Times Advocate, 1924-1926; 2002-2008; The Fordwich Record, 1901, 1935; The Gazette (Mildmay), 1894; The Goderich Illustrated Signal-Star, 1889; The Goderich Star, 1868-1933; Goderich Reporter, 1880, Greater Goderich, 1918; The Huron Expositor (Seaforth), 11869-1980; 2013-2016; The Huron Loyalist, 1850, 1853; Huron Gazette (Goderich), 1848-1849; The Huron Record, 1881; The Huron News-Record, 1888-1897; Huron Signal (Goderich),1848-1936; The Lucknow Sentinel, 1875-1940; 2013-2016; The Seaforth News, 1917-1962; The Seaforth Sun, 1901; Wingham Times, 1882, 1885-1916; The Wingham Advance, 1889, 1893, 1902-1921; Wingham Advance-Times, 1922-1935; The Wroxeter Planet, 1909; The Wroxeter Star, 1900; 1902-1904; Zurich Herald, 1900-1957; Zurich Citizen's News, 1958-1978.
More are being added.
Hits are highlighted on the original page image — nice!