My "Foreign Correspondent" at Birmingham's National Exhibition Centre had another interesting, and exhausting day.

First up was a talk by Turi King, sponsored by FTDNA, on her involvement with the Richard III project.

The sheer excitement she brings to any talk is terrific. It infects you, and keeps your interest. She related how she was asked to participate in a dig for the remains of Richard the third, where the research Director who asked her assured her that they would find nothing, and it would take a half day of her time and effort. Two and a half years later, she still has not finished working on the Richard file. Apparently he had said that if they found Richard he would eat his hat. Turi showed a slide of two construction helmet shaped cakes, which the poor man had to eat, publicly
Then it was off to see Eric Knowles of the UK Antiques Roadshow -- people brought in family artefacts for identification. My Foreign Correspondent had carried from Canada a silver spoon which family sources claimed was purchased as new in the 1940s
It turned out to have been made in the reign of George III, in Exeter, circa 1805. As such, it was quite rare compared to silverware made in Sheffield or Birmingham, and worth more than double what those would have been worth.
Also spoken to was Dr. Peter Jones, who was active in the DNA analysis of about 250 WWI dead of the battle of Fromelles who had not been identified when they were buried in 1916, and had been discovered a few years ago.
They were able to contact many families of the soldiers whose records they were able to piece together, and ask them to contribute DNA to assist in the identification. Most of those soldiers were Australian, and a small number of British. Eventually, in a complex situation where the UK and Australian governments had different legal and administrative requirements for dealing with such exhumations, the team was able to confirm the identities of 144 soldiers, leaving 2 unknown UK soldiers, 75 unknown Australians, and 29 soldiers whose countries were unknown. In some cases DNA analysis was problematic, and artifacts discovered with the remains were able to help in identification. In some cases, German records of burials were located in an archives, and in such cases sometimes names and units of soldiers were recorded, where there were no English equivalent records available. The remains were reburied on a wintry March day in a newly constructed CWGC cemetery close to where the battle occurred.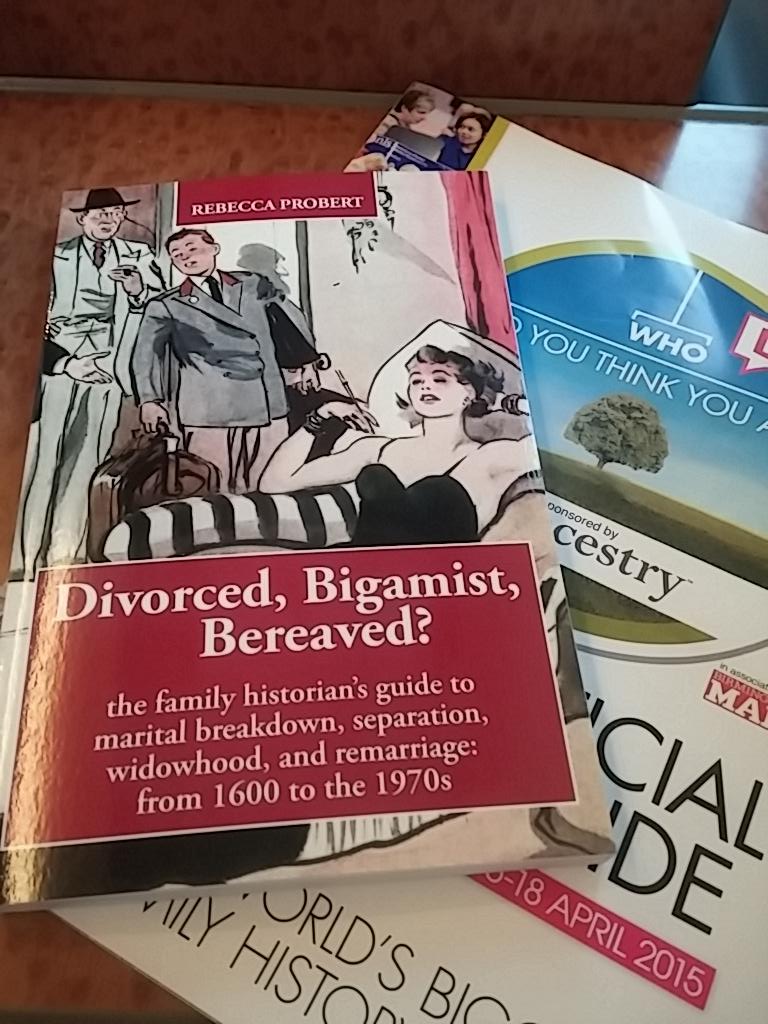 Other contacts were with Else Churchill, Janet Few and, at the stand where she was selling her books, Rebecca Probert. Shown is the cover of her new book which provides "fresh insight for genealogists into attitudes towards divorce, bigamy and bereavement through the ages.. Read about it at
http://goo.gl/wTJ6MZ
.
There are other reports on day 2 from
Kirsty Gray
,
Janet Few
,
Andrew Martin
,
Christine Woodcock
and
Dick Eastman
.