The following new acquisitions at the Ottawa Public Library have 2017 publication dates:


Les Filles du Roy pionnières de Montréal
920.9971428 FILLE
1 hold on 2 copies
In French. Here's the Google translation of the publisher blurb.
"Who are these young women, mostly poor and orphans who, between 1663 and 1673, left France and braved the perils of the sea to come and make a living in distant New France? Among them, 71 dared to go up the river to Ville-Marie to settle on this dangerous island, to marry and raise their families. What was their life like in this country?
Here are the pioneers of Montreal and their families. Immigrants rooted in New France, they helped to populate and develop French America. This is their story."
Tracing your Pre-Victorian Ancestors
A Guide to Research Methods for Family Historians
By Wintrip, John
929.1072041 WINTR
25 holds on 2 copies
"Tracing Your Pre-Victorian Ancestors is the ideal handbook for family historians whose research has reached back to the early nineteenth century and are finding it difficult to go further. John Wintrip guides readers through all the steps they can take in order to delve even more deeply into the past.
Carrying research through to earlier periods is more challenging because church registers recorded less information than civil registration records and little census data is available. Researchers often encounter obstacles they don't know how to overcome. But, as this book demonstrates, greater understanding of the sources and the specific records within them, along with a wider knowledge of the historical context, often allows progress to be made.
Most important, John Wintrip concentrates on how to do the research on the practical steps that can be taken in order to break through these barriers. He looks at online services, archives and their catalogues, factors that can influence the outcome of research, wider family relationships, missing ancestors and mistaken identity.
Throughout the book he emphasizes the process of research and the variety of resources and search tools that can be used."
The War of 1812 in British North America, Searching for your Ancestor's Elusive War Records
By Cox, Kenneth G
"The War of 1812 in British North America, Searching for your Ancestor's Elusive War Records provides researchers with an up-to-date guide to help you locate military service and other useful records from the War of 1812.
While the War of 1812 is well documented, the stories of our ancestors are often left to speculation. However, there are ways to discover some of their involvement in the conflict. Muster rolls, pay lists, medal rolls, pension requests, land grant applications, war loss claims, and various other records can help in the search.
Cox's book identifies which records are available, how to access them, and discusses interpretation of findings. Generously illustrated with examples, this book will be of great help to those seeking to find surviving personnel records from the War of 1812."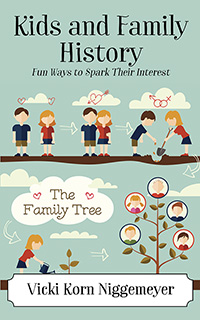 Kids and Family History: Fun Ways to Spark Their Interest
By Niggemeyer, Vicki Korn
929.1 NIGGE
"Kids and Family History is a book for adults, but is filled with ideas for engaging children in family genealogy and history. We send our children to school to learn. As people of faith we take our children to church or synagogue. Why should our passion for family history be any different? Kids and Family History was written with kids in mind, but the goal is to give adults ideas for fun ways to introduce genealogy and family history to the next generation of family historians. You will find lots of ideas for games, crafts, projects and activities for children from pre-school to high school. This easy-to-read, how-to-guide has detailed instructions for the ideas within. Don't leave it to chance. Plan today to acquaint your child with an important topic that too often is overlooked because we think our children are just not ready. You can do this!"
2016 publications
Researching Canadian Land Records
By Murphy, Sharon L.
3rd edition.
929.1072071 MURPH
In-library use only at this time
Finding your Child Migrant Ancestors From Britain
By Ellis, Phil
929.1072041 ELLIS