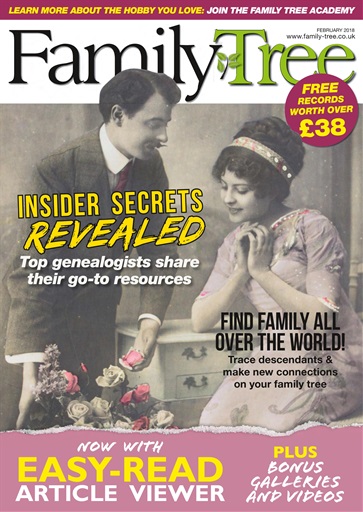 Browse the February 2018 issue of
Family Tree
,
the
UK genealogy magazine, and you'll find a section where "expert family historians share their favourite little-known must-search archive sources and websites."
Bruce Durie, who will be presenting at the 2018 BIFHSGO conference, singled out ScotlandsPlaces
www.scotlandsplaces.gov.uk
as a fabulous source for names with a collection of land and tax records as far back as the late 1600s, maps back to the 1500s, plans, OS name books and many more resources.
Celia Heritage, who spoke at the 2017 BIFHSGO conference, identified vestry minutes from the mid-16th to the late 19th century as "one of the most enlightening of sources for recording everyday life ... you will often find references to individual parishioners and events which have happened to them."
You'll have to check out the magazine for the others. I don't want to give too much away, editor Helen Tovey will certainly let me know if I do, but I'll risk mentioning Claire Santry's suggestion, The Placenames Database of Ireland. Google it!
There's lots more in the February issue, including
Diaspora: descendant tracing in the digital age
by British Columbia genealogist Donald W. Davis. See a partial list of contents at
www.family-tree.co.uk/store/buy-the-magazine/family-tree-magazine/family-tree-magazine-february-2018#FullDescription