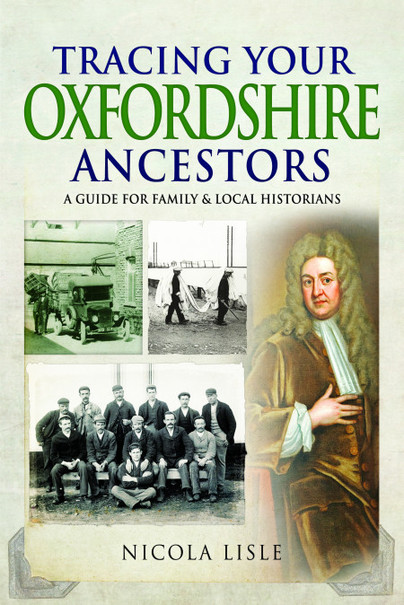 Experienced family historians know that while you can get a long way with the resources offered by the top websites there's more to be discovered on smaller sites, and many times more items held offline. You only find out about those by consulting a local specialist, and that's what's offered by
Pen and Sword
's Tracing Your [name] Ancestors series. Name can be a place, an event, an occupation or other cohort.
The country of Oxfordshire, which ranks 35th by population and 22nd by area among the traditional English counties, is the subject of the latest volume. While modest in those dimensions it has considerable heritage of interest to local and family historians.
Author Nicola Lisle (@NicolaLisle1), an Oxfordshire-based freelance journalist specializing in local history, family history and the arts and a contributor to newsstand genealogy magazines organizes the material in 10 chapters.
1. Introduction to Oxfordshire
2. Getting Started with Oxfordshire Records
3. Church of England and Non-Conformity
4. Healthcare, Poverty and Crime.
5. Agricultural Industries
6. Transport and Industry
7. Education
8. Oxfordshire at War
9. Oxfordshire at Play
10. Directory of Archives, Libraries and Other Useful Resources
Whether you intend using the book as reference or for study be sure to read the introductory first chapter. If you're not sure of the geography you might want to open a map of the county for reference while you read about the various communities named. Lack of a map in the book is one oversight.
Dip into the subsequent specialized chapters. In each for the beginner there's usually some general context for topics of interest. Be patient if that's below your grade level — you may only discover what for you might be gems for your research later in the chapter by a close reading. For example, a website for the Banbury Second World War Memorial.
A three page Table of Contents and five page Index means you won't struggle to find the topic of your interest.
Even the experienced family historian newly chasing her ancestry into the county will find this a valuable addition to her resource collection.
Tracing Your Oxfordshire Ancestors (Paperback)
A Guide for Family Historians
By Nicola Lisle
Imprint: Pen & Sword Family History
Series: Tracing your Ancestors
Pages: 200
ISBN: 9781526723956
Published: 21st November 2018
Cover price: £14.00, $24.95 US