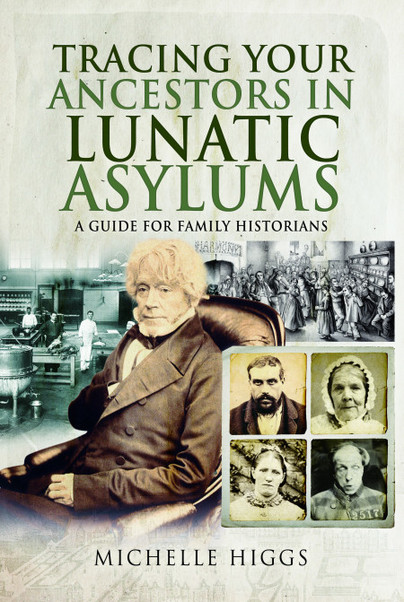 Lunatic, idiot and imbecile are not terms in use today but that's how an ancestor with mental health issues might have been characterized in the day. It may well be their story has been lost to the family history and you'll be surprised to find a hint they were in a mental institution. If so this new book by Michelle Higgs, author of two other books in Pen and Sword's Tracing Your series, will give you a well-rounded introduction to their likely situation in the UK and Ireland.
The family historian may well turn first to chapter 10, Sources, to discover the various documents, perhaps in the census, that may have survived. You may be fortunate and discover case notes in a local or county record office for your unfortunate ancestor.
After situating your ancestor refer to the relevant chapters to fill out the picture of their life.
Care of the Mentally Ill before 1800
Lunatic Asylums in the 19th Century
20th Century Mental Institutions
Mental Illness
Inside the Asylum
The Mentally Ill in Workhouses
Criminal Lunatics
Asylums for Idiots and Imbeciles
Mental Illness in the Armed Forces
You will discover how the law and practices changed over the years. Numerous cases are used for illustration. There are helpful appendices on terminology, websites, places to visit, a four-page bibliography and a ten-page index.
Although learning about your ancestor's situation may not bring much joy this clear readable guide will provide insight. Highly recommended.
Tracing Your Ancestors in Lunatic Asylums (Paperback)
A Guide for Family Historians
By Michelle Higgs
Imprint: Pen & Sword Family History
Series: Tracing Your Ancestors
Pages: 196
Illustrations: 40
ISBN: 9781526744852
Published: 14th November 2019