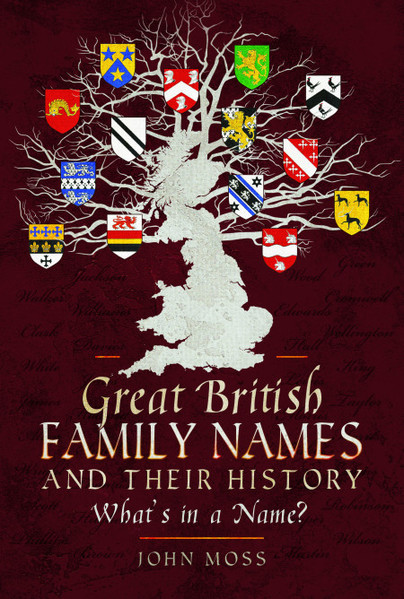 The back cover blurb includes "Fascinating guide for genealogists and budding family historians wanting to learn more about their name and its history."
More accurate is the front cover image showing a tree festooned with armorial shields of the Greats of Britain. If your family had or has one of those you may just find something of relevance in this book, just as you may find an entry in Debrett's Peerage or Who Was Who.
You won't find entries for those of us with occupational names carried by the vast majority of us — Smith, Baker, Taylor, Weaver etc.
A four-page introduction is followed by 10 sections for the various areas of the British Isles, seven for England plus Scotland, Wales and Ireland. These chapters are typically 20 pages, the exception is 91 pages on North-West England.
Each entry, typically one-page, is headlined with surname and place such as "The Clowes Family of Broughton", and includes the first and other early mentions and information on the lives of prominent family members.
While the content lacks references in the text there's a three and a half page bibliography and one and a half page list of useful web sources.
A 12-page index includes surnames but not locations. That's a pity as only by browsing will you by chance encounter references of your local interest such as that to Brigadier Francis Herbert Maynard, born in Ottawa in 1881.
Great British Family Names and Their History
(Hardback)
What's in a Name?
By John Moss
Imprint: Pen & Sword History
Pages: 314
ISBN: 9781526722805
Published: 3rd April 2019