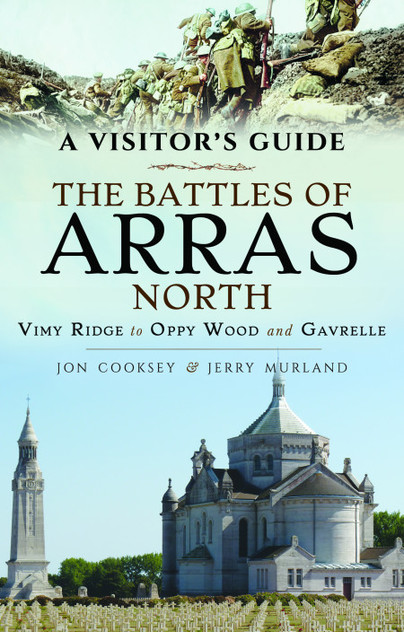 To get the best out of a visit to the Western Front battlefields of the First World War you need a guide. This new publication from Pen and Sword by Jon Cooksey & Jerry Murland is reviewed below by Canadian military historian and genealogist Glenn Wright.
Over the past five years, the anniversaries of the Great War, from the British retreat from Mons in 1914 to the Armistice in 1918, have been commemorated in books, films, and websites in a seemingly unending flow. Battlefield tourism has also increased, especially from Canada, and when combined with an interest in family history and the availability of Canadian Expeditionary Force personnel records, descendants of the men and women who served Canada in uniform can now visit and explore where they fought, lived and died during the war.
This guide is one in a series published by Pen & Sword to assist visitors to explore a very specific area of France, the battles in and around Arras. The authors lay out six different tours, only one of which requires a car. The tours are designed for those who prefer to walk or cycle, the maps and directions are detailed enough to allow a leisurely and informed tour of various military actions, cemeteries and memorials. Of particular interest in this guide for Canadians is the tour of Vimy Ridge (Tour 2, pages 57-96). The main outline of the battle is summarized, maps, photos and vignettes of individual soldiers enhance the text.
The authors include enough historical context to the battles of Arras during the Great War that even the novice First War enthusiast armed with photographs, maps and detailed directions will find this guide is an excellent field companion.
A Visitor's Guide: The Battles of Arras North (Paperback)
Vimy Ridge to Oppy Wood and Gavrelle
By Jon Cooksey, Jerry Murland
Imprint: Pen & Sword Military
Pages: 180
ISBN: 9781473893030
Published: 6th March 2019