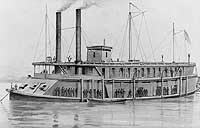 USS Rattler from U.S. Naval Historical Center.
Volumes of 19th-century,1861 to 1879, US naval muster rolls are now digitized accessible to the public
through the National Archives Catalog.
That's according to a
NARA press release
.
The muster roll data provide the names, birthplaces, ages, discharges, and physical description of enlisted seamen — and more.
At present, you need to know the name of the ship — search the catalog by ship name and the word muster
.
A citizen volunteer transcription project is pending.