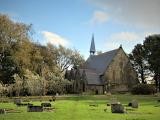 Gravestonephotos.com
is an individual initiative, mainly English resource, with over 1,120,000 names from English grave monuments and 1,573,000 worldwide. To date, in 2019 70,000 names have been added.
Coverage includes three counties with more than 100,000 names each — Yorkshire, Suffolk, and Norfolk.
St James' Church burial ground, Coundon, Durham, was added on 13 August 2019 with 708 graves and 1,600 person records.